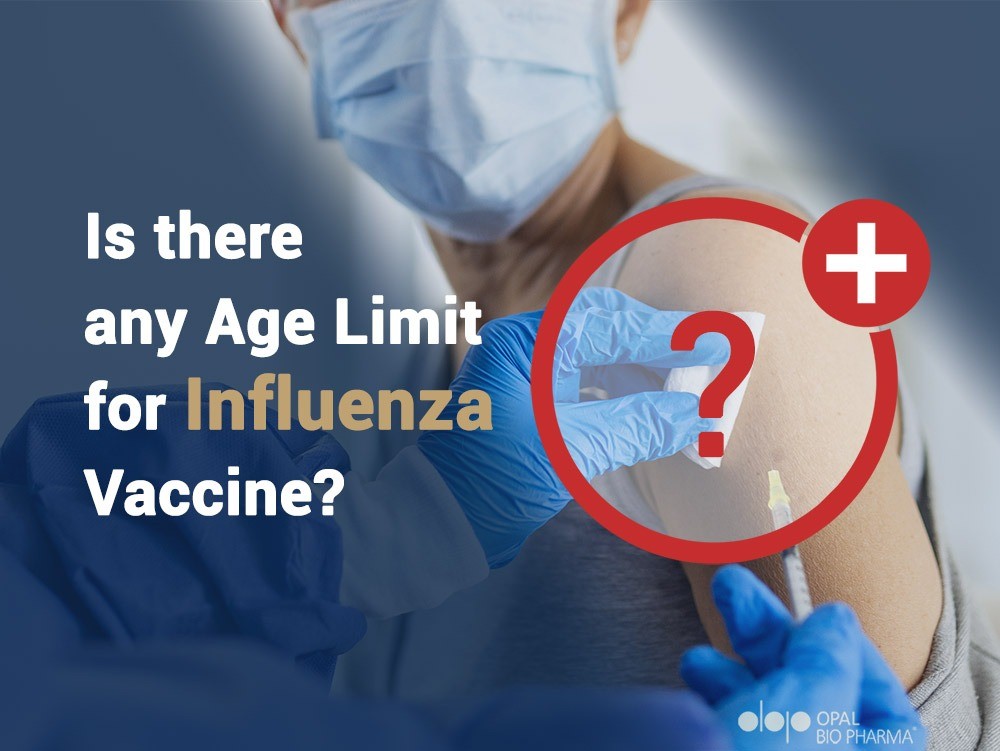 Is There Any Age Limit for Influenza Vaccine?
One of the most devastating attributes of the cold seasons is dropping behind the heavy load of work because of sickness. That is why the tiniest cough, fever, or feeling of dizziness can take a shift into constant anxiety. Regarding these symptoms, a simple cold often causes similar effects, while there is no question about the flu's comparatively more severity. Nevertheless, many people prefer to treat the flu like a cold and rely more on their immune systems. This can be a somewhat reckless act and result in unwanted consequences. Therefore, it is best advised for everyone to take the influenza vaccine more seriously. Yet, there is confusion about taking the influenza vaccine, which finds its root in an obscureness that lingers around age limits and preferences. Some age groups may be taken as too vulnerable to take the influenza vaccine, or some may not react compatibly.
Introduction
The short answer to this question is no. Despite many other vaccines with age restrictions, such as Hepatitis B, Tetanus, Measles, and varicella vaccines, the influenza vaccine does not have an age limit in that sense. That, however, should be put in a cautious tone. Everyone 6 months or older can (and must) get the influenza vaccine, which should become a yearly routine. Though many people do not take a liking to this, the influenza vaccine must get modified for the flu viruses, which are on a constant course of mutation. In any case, not all vaccines are recommended to all age groups. Additionally, the number of doses varies for different age groups. As CDC suggests, only one dose would suffice for each flu season. That, however, increases to two doses for children 6 months to 9 years old since the first dose only introduces the flu mechanism to the immune system. This preparation needs to be followed by a second dose for robust protection.
Best Options for People 65 and Over
Some specific groups, such as pregnant women and patients with chronic health conditions, are particularly advised to receive the influenza vaccine. That is because of the significant decrease in the immune system's potential to stand against foreign invaders, which puts them at a higher risk. Likewise, older people aged 65 and more are prone to get infected, whether because of a weakened immune system or other severe health conditions more likely to involve the elderly. All that pinpoints the importance of vaccination and the type of vaccine they get.
This can be observed in the statistics, as a large proportion of flu-related hospitalizations and deaths in extreme situations belong to people 65 and older. That leaves no room for further debate, yet, not all influenza vaccines perform favorably. Overall, two types of influenza vaccine best suit people 65 and older, each with various available products. Higher-dose and adjuvanted influenza vaccines are the vaccine types recommended by both ACIP and CDC. The varieties of the former include the Flublok Quadrivalent flu vaccine and Fluzone High-Dose Quadrivalent inactivated influenza vaccine. On the other hand, the only adjuvanted vaccine suited for the elderly is the Fluad Quadrivalent vaccine.
The Nasal Spray Flu Vaccine
One of the most effective types of influenza vaccines is the nasal spray or Live Attenuated influenza vaccine (LAIV). Despite the high effectiveness of LAIV in protecting against influenza A(H3N2) and influenza B viruses, only people 2 to 49 years of age have permission to receive it. Children younger than 2 years old, along with adults 50 years and older, are advised to continue with other licensed options. Alongside this age limit, some other groups are prohibited from taking the Live Attenuated flu vaccine, including pregnant women, children 2-4 years old with asthma, people with weakened immune systems, people with chronic health conditions, and children 2-17 years old who take especial medications that contain salicylate or aspirin. Moreover, people 5 years and older should take a cautious approach to LAIV and consult a doctor to ensure they will not get into extra trouble.  
When to Get the Influenza Vaccine
Meager differences exist between the types of vaccines suitable for various age groups. In the same way, the best time to get vaccinated varies for different age groups. As mentioned above, children are better off receiving two shots, but a minimum of a four-week interval is necessary so that the body is prepared to respond efficiently to the second dose. On this account, the golden time for children to get vaccinated as soon as possible is usually during July or August. What is more, the rest of the people who need only one dose are recommended to get their shot by the end of October, preferably in September. That said, a latency in getting the influenza vaccine does not justify not getting it. There is no accurate timeline for the flu activity, so it is beneficial to get a shot anytime possible.
The Essential Protection for Infants
Because babies are not fully ready to take such medical products, vaccination is dismissed. That being said, an infant can get exposed to risky conditions causing them an infection. The best solution for pregnant women is to receive a flu jab during July or August. Since necessary antibodies are transferred to the baby in the uterus through the placenta, an on-time flu shot can provide the body with the required antibodies. Consequently, newborns can stay protected in the first 6 months without any high-risk exposure threatening them.
Side Effects for Different Age Groups
In a nutshell, there is little correlation between age and the side effects, their severity, and their endurance. General symptoms can occur to anyone, including fever, muscle aches, headache, and nausea. They do not usually get to an acute phase, and many do not feel a trace of side effects at all. In addition to those, some side effects are more likely to turn up after getting a nasal spray flu vaccine which is cut out for people 2-49 years old. Besides the conventional biologic vaccines, the new wave of biosimilar technology has introduced more affordable alternatives. A handful of companies are putting most of their resources into biosimilars, such as the Oman-based Opal Biopharma. Also known as OBP, Opal Biopharma is primarily concerned with biosimilars utilizing high-tech equipment to make progress in the field.
The considerable cut in the price tags has brought them their reputation, especially throughout developing countries. Yet, some people may deduce for the same reason that there are more negative aspects to biosimilars, including more side effects. That, however, needs to be corrected, as biosimilars share the same benefits and side effects as biological ones. Nevertheless, since the side effects are on par with the flu symptoms, we may expect a different side effect or two in various age groups. As a way of explaining, older people have a lower body temperature than younger adults. That can also be reflected in their current body temperature when they have a fever.
Conclusion
The flu is one of the most prevalent and contagious infections in the cold seasons, and that elevates the importance of the influenza vaccine. Around August and September by the end of October is the appropriate period to get a flu shot. Unlike many other vaccines, the age limit for the influenza vaccine is a minor one and merely for babies younger than 6 months old. Some vaccines promise better effectiveness for older people, including higher-dose and adjuvanted influenza vaccines. This is while the nasal spray influenza vaccine (LAIV) is disapproved for adults 65 years old and over, as well as for some other groups.