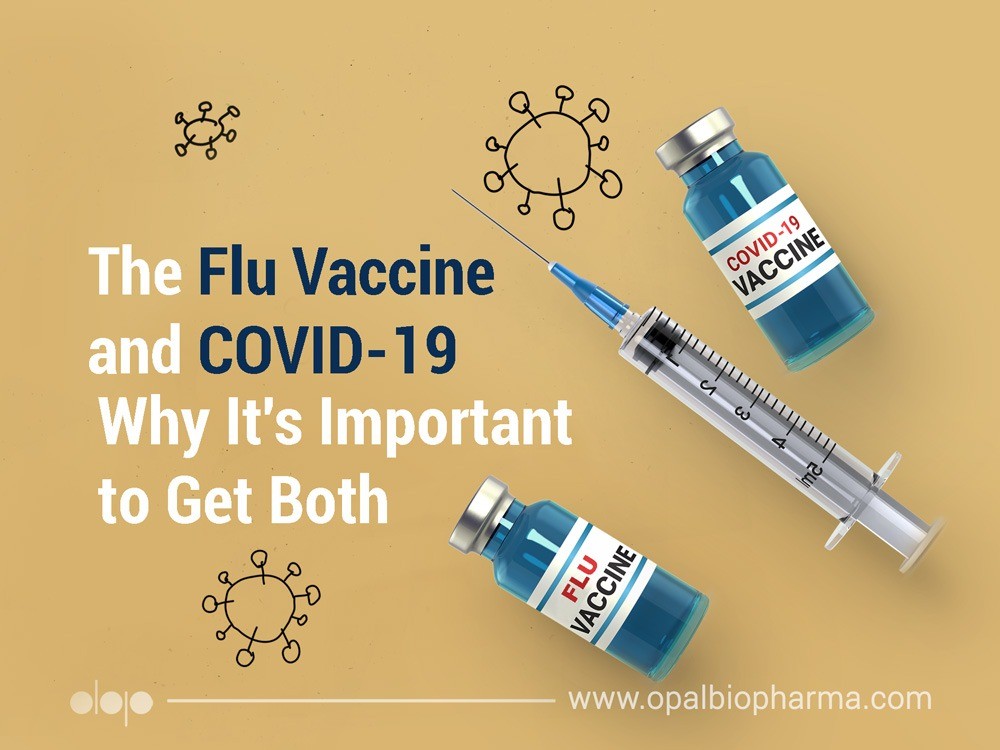 The early months of the coronavirus pandemic were barely tolerable; many lives were taken and many others at stake while the demand for the COVID-19 vaccine was striking its highest peak. On top of that, the recently emerged COVID-19 virus imposed almost identical symptoms to the flu virus, which made lots of us confuse them with each other. To make it worse, it is possible for someone to get infected with both of these viruses simultaneously. That is why everyone, especially people with weakened immune systems, was advised to stick to their vaccination schedule and get the influenza vaccine in order to diminish the risk of co-infection. Primarily spreading in the lungs, both the COVID-19 and flu viruses are respiratory diseases, and their co-infection can lead to brutally severe symptoms and long-term complications. Nevertheless, we can — and should — rely on the COVID-19 and influenza vaccines as the safest and most effective ways to gain robust protection against both illnesses.
Reasons to Get the Influenza and the COVID-19 Vaccines
It is not easy to tell the difference between flu and COVID-19 merely by the sign; both can cause several symptoms similar to those of a typical cold, such as body aches, fever, loss of smell and taste, a sore throat, and a runny nose. In more severe cases, coughing and trouble with breathing can also appear. In addition, both are transmitted in a similar manner in close contact via respiratory droplets produced during sneezing, talking, and coughing. The abovementioned similarities between COVID-19 and flu obscure our pathway to discern the infection, which can result in a delayed or erroneous treatment of the disease. Because of that, the Centers for Disease Control and Prevention (CDC) strongly recommends everyone receive the requisite shots of FDA-approved COVID-19 vaccines and the annual shot for the influenza vaccine. In addition, receiving both vaccines can guarantee sufficient protection from a co-infection of influenza and COVID-19.
Natural Immunity vs. Vaccines: Why Vaccination Stands as the Best Prevention Method
The primacy of vaccine protection or infection-acquired immunity went viral during the first months after the COVID-19 vaccine was manufactured and became one of the most controversial arguments at the time. A large group of people brought on a dismissive argument against vaccination and tried to advocate the natural immunity acquired after infection. That said, natural immunity does not outperform COVID-19 vaccines, considering physical, medical, and social aspects. Vaccination has a direct correlation to people's social status. Nearly 150,000 to 180,000 people get hospitalized in the United States due to seasonal flu, which can be subsided drastically through the punctual administration of the influenza vaccine. While we can enhance herd immunity (aka community immunity) through pervasive vaccination, the lack of interest in doing such can contribute to the growth of catching the flu or COVID-19.
Other than stabilizing a trustworthy and healthy environment, getting the influenza vaccine can effectively diminish the number of hospitalizations and, thus, make room for patients desperately in need of serious health care. Moreover, there is no need to carry the burden of an imminent infection as getting COVID-19, and influenza vaccines are much safer options. Autoimmune conditions or multiorgan effects that might follow a COVID-19 infection attest to the peril of natural immunity. Known as post-COVID-19 syndrome, these complications may remain with the patient or return in a time span of four weeks after getting COVID-19 and can cause trouble in multiple organs, such as lungs, skin, heart, brain, and kidney.
The Best Time to Get Influenza and COVID-19 Vaccines
While you can get your required doses of COVID-19 vaccine anytime, it is usually suggested to get the yearly dose of influenza vaccine in September and October, before the flu season begins. That is because it takes the body nearly two weeks to respond to the antigens of the influenza vaccine, so you will not be caught off guard by unexpected symptoms on a chill autumn morning. Nevertheless, CDC advises everyone, especially individuals with chronic health conditions, to get vaccinated later if they fall behind schedule.
Various Types of COVID-19 and Influenza Vaccines
Despite many manufactured COVID-19 vaccines, only four are officially authorized for public use in the United States and Europe, including the Pfizer-BioNTech COVID-19 vaccine, Moderna COVID-19 vaccine, Johnson & Johnson's Janssen (J&J/Janssen) COVID-19 vaccine, and Novavax COVID-19 vaccine. The first two utilize the newly-developed messenger RNA (mRNA) technology, making manufacturing vaccines faster. Moderna and Pfizer-BioNTech COVID-19 vaccines contain a molecule destined to teach body cells how to make a protein—fully or partially—via specific embedded messages. Followingly, these messages trigger an immune response, resulting in robust protection that lasts up to 8 months. However, Novavax and Johnson & Johnson COVID-19 vaccines hold different structures as protein subunit and viral vector vaccines, respectively. Likewise, a number of influenza vaccines have acquired the approval of authorities for public use in most countries; they vary based on the vaccine type and age groups, including recombinant (RIV), inactivated (IIV), and live attenuated (LAIV) influenza vaccines.
Age Groups for COVID-19 and Influenza Vaccines
The protein-based Novavax COVID-19 vaccine is recommended for people 12 years and older, whereas its Monovalent booster could work if you're past 18 years old. This is while the viral-vector-based Johnson and Johnson COVID-19 vaccine is only recommended for people 18 years and older due to the ingredients and mechanism. The non-bivalent, mRNA Pfizer-BioNTech and Moderna COVID-19 vaccines, however, stand as the optimal pick for anyone 6 months and older. On the other side, the influenza vaccine is generally approved for anyone 6 months and older. However, some types have age limits, including the egg-based adjuvanted and high-dose flu shots optimal for adults 65 years and above and the nasal spray (LAIV) flu shot suitable for people 2 to 49 years of age. Notably, adults can get any COVID-19 vaccine in the muscle of the upper as a routine. Yet, young children and some people with special conditions, like those with a history of lymphedema in both arms, are advised to get their COVID-19 shots in the thigh. A similar procedure is also conducted for the influenza vaccine administration, as children under 1 year should get their flu jab in the thigh, while the upper arm muscle remains the typical injection site for the rest.
The Safety of COVID-19 and Influenza Vaccines
The only risks associated with the influenza vaccine are a few moderate symptoms, like redness and pain at the injection site, as well as muscle aches and a mild fever. However, things turned out differently for the newcomer COVID-19 vaccine. Due to overwhelming concern about the safety of the COVID-19 vaccine, a complete description of the ingredients and their function was released, among which specific components cannot be seen. According to CDC, the COVID-19 vaccines are free from ingredients such as food proteins like eggs and gluten, metals like cobalt and iron, antibiotics, tissues, preservatives like mercury, and latex. What is more, the adverse impact of the approved COVID-19 vaccines on DNA is no more than a rumor. Nevertheless, some COVID-19 vaccines are preferred due to fewer possible adverse effects. According to CDC, Pfizer-BioNTech, Moderna, and Novavax vaccines are preferred to Johnson & Johnson; this is mainly because of a few adverse effects that might rarely follow after getting Johnson & Johnson vaccine, like Thrombosis with thrombocytopenia syndrome (TTS) and Guillain-Barré Syndrome (GBS).
Accessibility to COVID-19 and Flu Vaccines
Among more than 100 COVID-19 vaccines, only a few managed to gather official approval, two of which utilized the comparatively novel biosimilar mRNA vaccines. Most noteworthy, CDC prioritizes the mRNA COVID-19 vaccines over the rest due to more all-inclusive compatibility with people of different ages and medical conditions. Over the past decade, several pharma companies have taken an interest in biosimilars as a groundbreaking technology. The primary reason for such phenomena is the substantial decrease in costs, which leads to broader accessibility in developing countries, for instance. Opal Biopharma (OBP) is among the pioneering manufacturers that have established its primary purpose to develop biosimilar products in order to facilitate overall access to medical services. Opal Biopharma aims to improve public health on a global scale by producing various medicines and vaccines, including a biosimilar influenza vaccine.
Final Thoughts
The influenza vaccine has shown an astounding performance in reducing the risk of involvement with acute influenza for children—for instance, by 75% in a 2022 study. Aligned with that, it has saved millions of lives throughout the past decades, turning influenza into a rather domicile disease with no severe consequences. Yet, the danger lurks as the flu viruses constantly mutate. The influenza vaccine can effectively protect you during the flu season and prevent a possible co-infection with COVID-19. There are different types of COVID-19 and influenza vaccines—each with certain characteristics that may accord with the diverse needs of individuals—and both are trustfully safe. However, it is advised to consult your healthcare provider about which vaccine works best if you have special conditions, such as egg allergy. Lastly, a booster can also be of great help in stepping up the immunity against the COVID-19 vaccine, although the age limits must be taken into consideration.