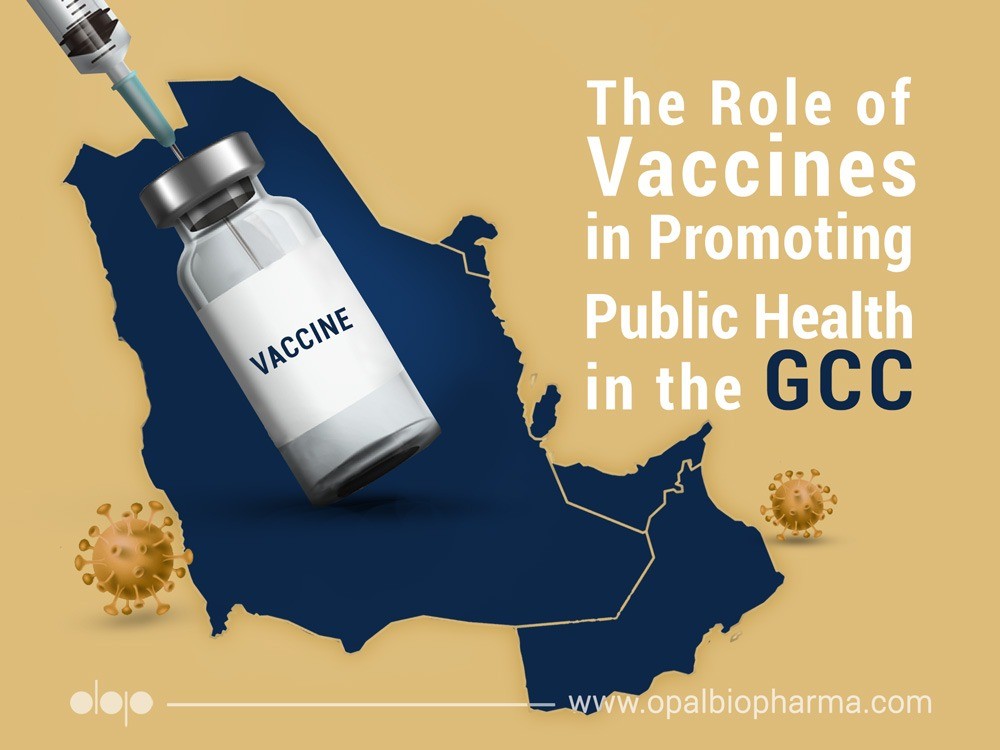 Vaccination in GCC plays a major role in improving public health by protecting against multiple diseases. An expansion in population is not always about exponential economic growth and new job opportunities. On the other side of the matter, some inevitable aspects tuck themselves into the various layers of society, such as overcrowding, pollution, and a leap in expanding diseases. The Gulf Cooperation Council countries, known as the GCC, have faced such issues over the past 25 years as their population has soared, aligned with the emigrant population, mostly expatriates. The GCC comprises six member states, namely Oman, Bahrain, Saudi Arabia, Qatar, Kuwait, and United Arab Emirates (UAE). Each of these states enjoys industry-leading healthcare services, as well as various plans for healthcare coverage. Among these practical stages to step up in healthcare quality, vaccination in GCC also glitters as a pivotal factor for public health promotion. Through vaccination, most of the population gets immunized against different life-threatening diseases, which helps GCC states enable a far-reaching horizon for more advancements in various fields.
Vaccination and Its Effects on Public Health
Globalization lies in close proximity to the expansion of international interactions and commerce and a significantly growing travel rate. Despite the numerous advantages of such dealings, it is hard to overlook the likely increase in the spread of infectious diseases. This might appear as local epidemics and contribute to further outbreaks on a global level. Relevant to that, this can give rise to the emergence of new diseases as well. Vaccination in GCC is the most optimum way of preventing the transmission of vaccine-preventable diseases in the region, ensuring reliable protection. Moreover, damping down the infections on a large scale elevates life expectancy. This most effectively accompanies the GCC's efforts to manage chronic diseases like diabetes and respiratory illnesses as the leading cause of mortality in GCC states. For the same reason, WHO emphasizes that everyone, especially people with chronic health conditions, gets essential vaccines, such as influenza, pneumococcal, and hepatitis A and B. Besides, fostering the new generations based on a planned-out vaccination program will result in a healthier society in the long run.
How Vaccines Can Benefit the GCC
Vaccination in GCC stands as the safest route to reliable immunity against many diseases. This can be done by traditional vaccines, which introduce a killed or weakened bacteria or virus, or by mRNA vaccines carrying messages for body cells to trigger an immune response by teaching them how to make the essential proteins. Although each vaccine may briefly bring about a few side effects, the benefits gain the upper hand. Reducing the risk of illnesses makes us less likely to cope with severe consequences that can engage us for life. What is more, vaccination in GCC is a way out of prolonged treatments and financial burdens, which makes it a cost-effective option for GCC citizens and governments to cope with infectious illnesses. 
The Overarching Upsides for the Community
The upsides of large-scale vaccination in GCC are not limited to individual immunization but also herd immunity, aka community immunity. Some of the population usually have compromised immune systems or are too vulnerable to handle various vaccines, like newborn children and the elderly. Besides, some people cannot temporarily get vaccinated due to special conditions like prescriptions or pregnancy. Therefore, an immunized community can effectively abate the risk of disease spread among vulnerable groups too, which leads to a healthier community. Through vaccination in GCC, we can ensure a stretch in the limits of social interactions and financial advancements in GCC states by enabling a different extent of freedom for a more productive presence for all the residents.  
The GCC and the Health Care Quality
The expansion of investment in the healthcare sector in the GCC remarks the apex of healthcare quality in these states. According to studies, the GCC countries have managed to lift the life expectancy from 62 years to 77 years in a four-decade span from 1970 to 2012. Besides, vaccination in GCC countries is managed through several mandatory programs and has now swapped infectious diseases with non-communicable diseases (NCDs) as the #1 rank for causes of death. Anyhow, the GCC states are also as concerned with NCDs as infectious diseases and have reflected the importance of such issues in various prevention and control programs. Some include the NIZWA project for a healthy lifestyle in Oman, health promotion as a national plan for controlling chronic diseases in Bahrain, and health education in UAE schools. In contrast with the predominant traditional mindset of GCC nationals regarding the primacy of abroad medical services, an expansion in medical tourism in the GCC is taking place, thanks to multiple public and private investments to improve the number of inbound medical facilities. This progress expands the healthcare quality in the GCC and makes room for endless opportunities in favor of economic growth.
Vaccination Promotion in the GCC 
The national immunization program sets its goals on reaching maximum public health. It encompasses a set of vaccines against some common diseases that primarily target different groups with weakened immune systems. They include meningococcal disease, diphtheria, measles, pertussis (whooping cough), mumps, and polio. Moreover, vaccines for meningitis, pneumococcal disease, flu, and chickenpox are vital for every individual. That said, vaccination in GCC has more aspects to it other than public health. Further profits from across-the-board vaccination in GCC relate to multiple fields vital for the overall development of the GCC, including productivity, education, and healthcare costs. Vaccination can considerably save up annual expenditures for medical purposes as the rate of infections and illnesses drop drastically. This can also manifest itself in the productivity of employees and different businesses and startups. What is more, the GCC states have every intention of building their future up on the next generation, and vaccination in GCC can ensure an adequately healthy environment for elevating children's physical strength and cognitive skills.
Biosimilars: A Far-Reaching Access to Vaccines
All the GCC states offer free influenza vaccines at health centers to eligible residents and citizens. Factors like age (about 50 years and over), pregnancy, and chronic health conditions determine people's eligibility for free vaccines. Moreover, health insurances in GCC countries cover the costs of other necessary vaccines. Yet, a proportion of the population may not be able to pay for vaccines for some reasons, which can arouse adverse results of infection spread if taken to a broader scale. Biosimilars are the ideal solution to deal with the paucity of access to essential vaccines, specifically in developing countries. Many pharma companies, such as Oman-Based Opal Biopharma (OBP), are leading this field by manufacturing meticulously evaluated biosimilar vaccines and drugs; there is no clinical difference between biosimilars and biologics, which gives them more credibility in the market. Despite the expanding healthcare spending in the GCC, hitting USD 99.6 billion this year, the GCC can still make use of biosimilar treatments and vaccines as further options next to original biologic medicines in order to narrow the costs down while maintaining the healthcare quality as sufficiently competent.
Final Thoughts
GCC countries have proven their disposition towards outstanding improvements in medical fields in response to the vast demand for health care as a consequence of population growth. Despite various challenges, this expansion has led to a desirable increase in life expectancy, a crucial factor in paving the way for further development of GCC countries. As one of the most efficacious factors in disease prevention, vaccination in GCC can immensely contribute to public health promotion. Through the use of vaccines, the majority of GCC populations are immunized against the most common viral or bacterial diseases, such as influenza, measles, mumps, and hepatitis B. This subsides the risk of future illnesses and epidemics and boosts the GCC's potential for a more impactful appearance in international affairs.